Lexibook The Voice Electronic Keytar, 2-in-1 Guitar and Piano, Musical toy, Vibrato effect, Strap, red/black, K280TV
Reveal your talent with this The Voice keytar!
The child will play fantastic melodies with this great electronic guitar keyboard The Voice! He will be able to choose exactly the desired tone and musical pattern, and play all his favorite songs with the piano keys!
And to add a special rock'n'roll effect, he can use the vibrato button to extend a note or create a vibrato as on a real electric guitar!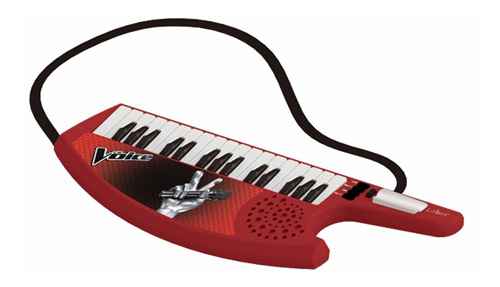 Many features to play while having fun!
This electronic keytar has many features to explore all styles of music!
Choose the tune you want to play with : piano, organ, or two different electric guitar tunes.
8 music patterns available to play in rhythm.
Use the vibrato trigger to sustain the note or create a vibrato sound effect while playing.
19 demo songs are included, to play directly on the music. When the child plays, the melodic line will fade to amplify the music played by the child!
3-stage volume control.
A light and practical instrument to take everywhere!
Made of lightweight and durable plastic, this keytar will be easy to handle by children aged from 3 to 8 who want to discover the music and reveal their talent as an artist.

Bonus feature: A strap is included to carry it comfortably!
Also available in : PJ Masks (K280PJM)