Lexibook Small Guitar 53cm PJ Masks Catboy for Children, 6 Nylon Strings, Musical Toy, Plastic, My First Guitar, Blue/Red/Green – K200PJM
An amazing PJ Masks guitar for young artists!
This small plastic guitar is perfect to discover music. Its amazing design will please every young musician. With its 6 nylon strings, the child plays his first songs in rythm with Catboy, Gecko and Owlette. Every kid will love its bright colours inspired by his favorite TV show PJ Masks.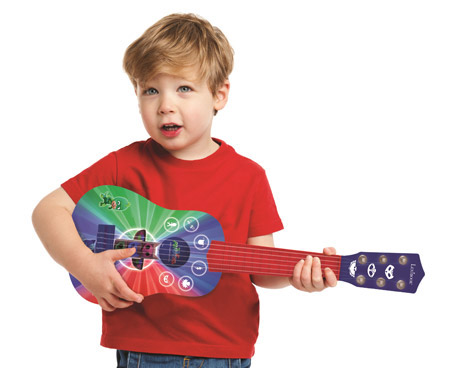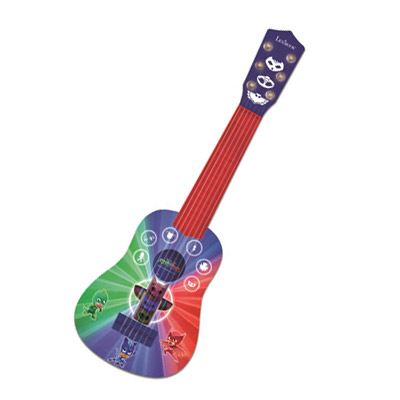 Playful instrument to learn how to play the guitar
This guitar is perfect for first guitar lessons. A learning guide is included to learn how to play : the child can learn how to hold the instrument, where to put his hands, how to strum the strings and even how to play a few basic chords. Finally, the guide will also help the child to familiarise with tuning his guitar (tuner not provided, strings with limited tension).
A light guitar to bring everywhere!
This small guitar is approximately 53cm (21 inches) long, especially designed for children. Thanks to its light and strong plastic, this guitar is perfect for children from 3 to 8 years old who want to discover music and who are ready to reveal their artistic talent.

Included in your pack:
1 Plastic Guitar
1 Learning Guide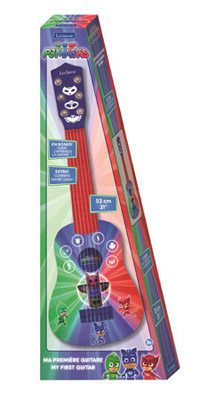 Also available in: Disney Princess (K200DP), Disney Cars (K200DC), Elena of Avalor (K200EL), Moana (K200VN), Peppa Pig (K200PP), Hello Kitty (K200HK), Minions (K200DES), PJ Masks (K200PJM), Frozen (K200FZ), Enchantimals (K200EC)