Lexibook Star Wars Stormtrooper Dart Vader Jedi Wooden Acoustic Guitar, Learning guide included, Black/White - K2000SW
Become a music star thanks to this amazing guitar!
This acoustic guitar Star Wars in real wood (78 cm long) will allow you to start learning the guitar with style! Thanks to its 6 nylon strings and its wooden body, you can practice to get the perfect sound to play your favorite songs!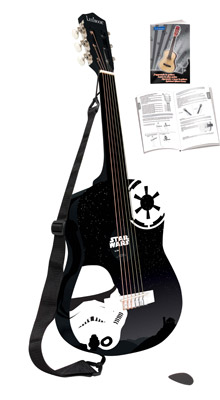 Learn how to play the guitar with Star Wars!
This acoustic guitar with the colors of the famous Star Wars saga is perfect for learning to play! A learning guide is provided with the instrument to accompany you in your first chords.
In addition, a pick and a strap are included for comfort and hours of music after class!
How to tune the guitar?
Tip to tune your guitar more easily: use the phone's ringtone. Set on the "La", then just adjust the sound of the strings to match the ringtone!
To do so, simply turn the keys at the top of the handle counterclockwise and test the sound of the string regularly. Once it is on the same tone as the phone, the rope is tuned!
Be careful not to tighten the keys too hard or the strings, too tight, may break!

Included in your pack:
- 1 Wooden guitar
- 1 Strap
- 1 Mediator
- 1 Learning guide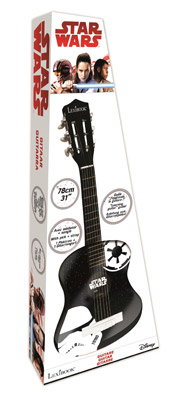 Disney Frozen (K2000FZ), The Descendants (K2000TD), Elena of Avalor (K2000EL), The Avengers (K2000AV), Chica Vampiro (K2000CV), Minions (K2000DES), The Voice (K2000TV), Soy Luna (K2000SL).